About two years ago, I was cast a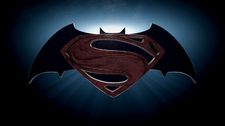 s an extra in the filming of the Warner Brothers film "Dawn of Justice." They needed "military type" people as extras in the movie... bald or "high & tight" hair style and absolutely no facial hair period.
Off I went to my fitting appointed and after the wardrobe personnel looked me over, I was custom fitted in a Marine Corp, Class A dress uniform, baring two slver stars on the epaulet and a host of bars and medals on the breast of the coat. Measurements were completed and then pictures were taken.
A few days later, I arrived and assigned my wardrobe of a U.S. Marine Corp Major General, the second ranking Military Officer in the scene right under the main actor in the scene, "General Swanwick", played by actor Harry Lennix.
After setting in "makeup" for fifteen minutes, I was directed to the set, where the assistant producers were preparing and setting up for the scene. Mr. Lennix arrived and we greeted each other and began to converse. I told him that I was a trumpet player, and he ask me who my favorite trumpet player was. My mind went blank, however I quickly scanned and came up with the artist who's music I had been studying for the past month and who IS one of my favorites, Terrance Blanchard.  A big smile appeared on his face and he told me that Terrance is a good friend of his. What a coincidence. We talked further whenever we had seconds between takes and adjustments in the shooting.
With a host of additional extras as military personnel, as well as real war Vietnam and Korean War Veterans playing "war Veterans," we rehearsed and shot two parts of a scene which took the entire day. For the first part, I pretty much shadowed Mr. Lennix the entire time. Shot at the Masonic Temple in midtown Detroit, it was a scene where he and I and two other uniformed ranking Air Force and Navy Officers went down a reception line at a ceremony for the Military Veterans, shaking their hands and thanking them. We filmed the second part of the scene, where I was to appear towards the end of the scene, as he walked past me, after ending a conversation with "Lois Lane," played by Amy Adams. It was the most fascinating adventure ever!
I went to view the film about a week after it opened and discovered the the scene I was filmed in was almost completely omitted. Except for the very end of the scene . . . gone, just not there . . . at least the part that I was to appear in. There was only about four seconds of my profile that could be seen. Here's where . . . when General Swanwick (Mr. Lennix) first appears in the film, he talks with Lois Lane as he exits a bathroom after the Veteran's ceremony is over. Upon encountering her, they talk about Superman. I don't remember the conversation, but there is a close-up on Mr. Lennix towards the end of the conversation and my profile could be scene in the background in the lower right corner of the screen . . . about four seconds worth. As he turns and walks away from Lois Lane, he was to walk right past me and take his coat from an Air Force Major (his assistant) whom I was standing and talking with.
My scene, my scene, my scene . . . it hit the cutting room floor. But what an experience! I'm thankful that I had an opportunity, just to see how it's all done. I also met some really cool people from all walks of life who were also cast as extras in the film. There was one person that I met who is presently a Michigan State Police Sergeant and a War Veteran, cast as a War Veteran in the scene. He served in the Marine Corp and in observing the uniform I was wearing, he pointed out that one of the many medals (decorations) on the uniform was incorrectly affixed in the wrong order. However, the Assistant Producers and wardrobe people just went with it. Thanks anyway Dwayne.
Right now, I'm counting on the scene being included in the DVD. Many times, the deleted scenes are included. Well, like I said, it was really an experience, and a real pleasure to meet Mr. Lennix.