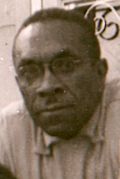 Mr.Robinson holds a special place in my heart. I will never forget the look on my Father's face when we met him.  Let me explain. 
My Dad, Lloyd "Do-Love" Hoggatt was born in Nashville, TN in 1896.  He moved to Minnesota in the mid 1920's where he played professional baseball in the "Negro League." At that time, a "Negro" was not allowed to play in the 'major league.'  There are several books including "The Biographical Encyclopedia – The Negro Baseball Leagues" by James A. Riley, that discuss the plight of the professional Negro baseball player. 
Daddy played second base and was given the name "Do-Love" as many Negro league players had that came after my Dad; James Thomas "Cool Papa" Bell, "Satchel" Paige and Ted "Double Duty" Radcliffe are only three of the thousands of players. I could only recall what I heard him say when he was talking to his friends and family. I remember him always laughing when he talked of adventures that he had when he was around his brother, my Uncle "BB" Hoggatt, about how he traveled throughout the south on busses, going from town to town, playing games against other teams. I didn't know what the stories meant at that time, but I seemed to record them in my mind as being something important to him and somehow, I believed that he knew that I was listening. 
In the early 40's, on a trip to Detroit to visit his sister, he met and married a beautiful young woman, my mother "Mommy".  He decided to settle down and had three boys.

In the mid 50's my Dad started playing catch with my older brother, teaching him the mechanics of being a good well-rounded ball player. In subsequent years he would teach each of us the fundamentals of each position on the field. At least once a week, Daddy took us to the ball field and hit what seemed to be the highest fly balls ever!  There were of course trips to the then Brigg's Field (later named Tiger Stadium).  Baseball was a part of our lives and we loved It!

My brothers and I went on to play organized baseball in the minor league, little league and teener/Babe Ruth baseball teams in our home town of River Rouge, MI. I was a mediocre ball player at best, but my older brother developed a pretty good pitching arm and my little brother, well "Kermit" just nonchalantly knocked the cover off the ball whenever he felt like it. Daddy surely would not have minded if one of us would have played ball professionally. My Dad coached the US Post Office female softball teams for many years and he coached my little brother's little league team in 1965-67, till the age of 71. Daddy just loved baseball. 
When I was 6 or 7 years old, a local newspaper announced that the great Jackie Robinson was going to be signing baseballs at a local department store.  Daddy's excitement went through the roof!  It always interested me to see the things that made my parents excited. Daddy was just beside himself! On the day that Robinson was to appear, Daddy got up early, showered, and put on one of his best dress shirts (which he always buttoned to the top button). He had it tucked in his pants this day. There was a smile on his face that didn't go away. It was almost scary!

He packed me and my brothers into the car and traveled about twenty minutes to the store. There was a long line of proud dads with their sons, dressed in baseball uniforms, waiting to meet the great Jackie Robinson. 
When it was our turn, we stepped up to what seemed like a tall platform with a long table, where Mr. Robinson sat. This was the man, a great man and a major league baseball player that my Daddy had talked about with so much pride.  I glanced up at Daddy as he squared his shoulders and approached Mr. Robinson. I knew then what admiration and pride looked like. I had never seen this side of my Father. With a big smile on his face, he handed Mr. Robinson a baseball to sign, and said, "these are my boys, they play baseball."