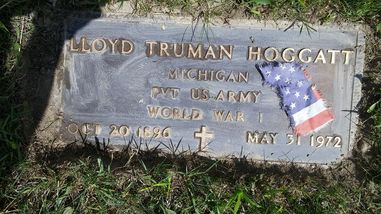 I just wanted to share this with you.
Today, I visited my father's grave. His stone reflects his service in the U.S. Army as a PVT at war time, World War I.  Born in 1896, he would be 120 years of age this year. As I approached his grave marker, which I knew was a bit overgrown with grass, I notice what I though was a piece of paper sitting on it. As I got closer, I noticed that the color was red, white and blue . . . but it wasn't just a piece of paper at all. It was a tattered piece of cloth . . . a piece of what looked to be a small, worn U.S. flag, a piece of one that was originally about 8X10 inches.
May not mean anything, but here's the story:
I believe that is was 4 or 5 years ago today, that I placed a small flag by my father's marker. I pushed the wooden stick about eight or ten inches into the ground because I wanted it to stay there until the following year. I wanted to see how worn it will become as the year progressed. Then one year later, on Memorial Day, I intended to pull the flag from the ground and keep it, for it would have remained on my Dad's grave for an entire year and weathered the elements and survived.
There it stood as I visited him again on my Mother's birthday (July 7) and again on his birthday (October 20) . . . the flag stood tall, fading, ripping and weathering beautifully. I returned in March the following year and "The Flag Was Still There," barring the signs of the winter's harshness. Only two months to go . . . to return and find the Daddy's flag standing tall and surviving for an entire year, I'll be taking it home.

On May 30, Memorial Day, one year after I planted the flag, I stepped from my car, about fifty feet from his grave and saw no flag . . . the flag was gone . . . there was no flag. I would not be telling the truth if I was to say that it did not anger me and hurt me. Why would someone either take or destroy an American flag placed on a grave by a loved one? However, anything could have happened to it.
Each time I visited my Dad, I remembered how it was so easy to see where he was because of the flag. As mentioned, when I walked up to his marker, I didn't know what to think. Is someone playing a joke?... No. It's my Dad's flag. The flag was really still there! I should have taken the shot right then, but I picked up the worn, tattered, faded flag and immediate wrapped it up, I just wasn't thinking.  It made me a bit emotional during the whole time I policed my father's marker and I placed the flag strategically back onto his marker and took this shot.
Need I Say More?