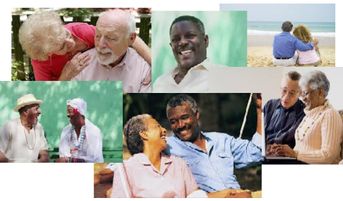 When we talk about the half of anything, we think of something that's divided into two parts. It's a bit abstract to think of anything that has three halves, yep there are three halves. I think of our lives as having three halves or parts.  
Follow me on this journey: From birth to theoretically our eighteenth birthday (or until we are independent of our parents, guardians or authority figure), we are nurtured, taught and generally directed toward independence. We go through stages of stages, many of which cause our parents to endearingly and constantly figure out ways to avoid eliminating our existence instantly. It's the time(s) when life teaches you how to function or how to 'duck and cover' when the stuff hits the fan. You get the picture.
Nevertheless, at the point in our lives when we realize that we are out there on our own and there is no backup, cavalry, or apron strings to hold onto, we begin the second half of our lives or as it were -- the first half of adulthood.
As young adults, maybe charging forward with an education or with some discretionary cash or both, we set off to conquer the world. We eventually find the job(s) that we LIKE, then the job(s) that we NEED, then the job that we WANT, then the job that we LIKE and NEED and the job that we LIKE and WANT, then the job that we NEED and WANT… you get knocked down and bruised a few times but you are on a mission, so you pick yourself up and the cycle starts anew. Exhausting!
Maturing, we get closer to early midlife -- some of us earlier than others -- and we start thinking about love and friendship and relationships and love. So you pick yourself up after falling out of what you thought was love and you're disappointed at people who made you feel you were in love… and you continue healing from a broken heart and blah, blah, blah. There are a lot of bandages and scabs but we keep moving.
After wading through the obstacles of life, we began to figure out the best way we can possibly salvage those portions of our lives that have been beaten up, broken or badly bent. We decide on a course of action; where to make improvements and adjustments, and finally, where we want to be in --- say five or ten years and maybe even go so far as to look deeply and try to put a finger on how, when and where we want to do this thing we've seen people do… yeah retire!  Sigh!  Yeah, time to figure out how, when and where to begin the THIRD HALF of our lives.
I call retirement the time that one starts to LIVE! But what is 'LIVE' and how do you do it?  In this case LIVE is an action verb: the act of doing something. A very important definition, in my book: to do what "I" want to do; to work at what "I "want to work at and to play at what "I" want to play at. (I know good people of correct grammar I am leaving "at" at the end of the sentence). 
The first two halves of my life have prepared me for LIVING! It was extremely difficult! I deserve this! I WILL make the best of it!
Yep, on the brink of the second half of my life, at the age of nineteen, I knew I wanted and needed to write music, play music and record music. A little more than fifteen years ago, after twenty eight years of working a job I wanted and sometimes liked, I started to LIVE… writing, playing and recording music and loving every minute of it. To date, my band 'GEQ' has performed almost fifteen years worth of concerts, festivals and club engagements, including seven tours in the Caribbean and Hawian Islands.
In 2003 GEQ and I released our first CD 'Here Put This On' nationally and it was re-released in 2009 with two bonus tracks. A second project, 'Meet Guymon Ensley' was released in 2006 and three singles followed.
My life has been a series of stops, false starts, and side trips but I have enjoyed the journey. Some of you I have met on my journey to 'Living My Life' and I'm glad to have shared the ride. For you new travelers, – just hang on, the ride – the music is always exciting.  To hear/experience the most recent additions on my musical journey, click here for my NEW Extended Play CD 'This Comes With It'. Thank you for being a listener and a passenger on this journey.  
Guy
swingin' & groovin' harder than ever!